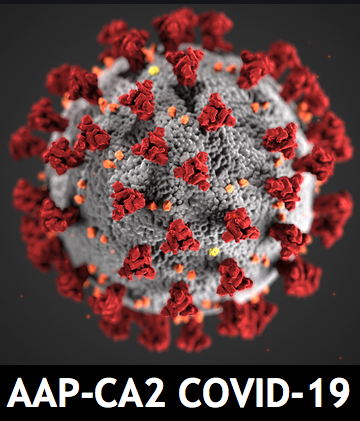 We want to thank all pediatricians, pediatric subspecialists, surgeons, nurses and health care professionals in general for continuing to stay in the front lines during this pandemic. In this page you will find links to Testing, Isolation Guidelines, and Guidance for Health Care Providers – all categorized by county, There are also links to National AAP recommendations, Telehealth and information for parents. Lastly, there are links to COVID-19 websites of neighboring health departments, CDC, WHO, and the Johns Hopkins global dashboard.
HIPPO Education has created specific content available at no cost to all providers, including "COVID;19: Pregnancy and Newborns"
Thank you again for all that you do on behalf of children.
AAP Interim Guidance for Safe Schools (1/5/2021)
Frequently Asked Questions about Schools Re-opening

As students, parents, teachers, school staff and administrators tackle the complex issue of schools re-opening in the midst of the coronavirus pandemic, many have turned to their trusted pediatricians as sources of information. We have gathered the most frequently asked questions about schools re-opening from the 80+ members of our chapter's School Health Committee and have provided answers here, with supporting scientific references when available, with the hope that this information helps all involved with this complex topic.
COVID-19 is a new strain of coronavirus that has not been previously identified in humans – the cause of an outbreak of respiratory illness first detected in Wuhan, Hubei province, China. The virus (SARS-CoV-2) causing coronavirus disease 2019 (COVID-19), is not the same as the coronaviruses that commonly circulate among humans and cause mild illness, like the common cold. Patients with COVID-19 will be evaluated and cared for differently than patients with common coronavirus diagnosis.
Reported illnesses have ranged from mild symptoms to severe illness and death for confirmed coronavirus disease 2019 (COVID-19) cases.

Symptoms may appear 2-14 days after exposure:
Fever

Cough

Shortness of breath
COVID-19 Dashboard by County
COVID-19 VaccineResources
Links to COVID-19 Vaccines for Providers by County
Kern County
Riverside County
San Luis Obispo County
Ventura County
Scroll past "Safety", then click to expand "Phase 1A, Tier 1 & Tier 2 Registration +" 
Go to page
Per CDC guidelines, testing should be done if a patient has cough and fever, AND has had close personal contact with a known COVID-19 patient, is a healthcare worker, or is in close contact with a high risk individual (age 65 or older, immune compromised, or has a serious underlying medical condition).
Due to local conditions, each county's Public Health Department may have put out differing guidelines for testing, compared to the CDC.
Ventura County
Per the Ventura County website, "symptomatic please call your primary care doctor for your health questions. Your primary care doctor would make the recommendation for COVID-19 testing. If you do not have a primary care provider, please visit Find a Doctor. You do not need to contact Public Health to request a test. Your doctor will contact Public Health if your test is positive."
Guidance for Health Care Providers
The AAP-CA2 Committee on Practice & Ambulatory Medicine (COPAM) developed the following COVID-19 Practice Safety Guidelines as recommended measures to prevent and mitigate the effects of the COVID-19 pandemic. These guidelines apply to pediatric practices in the counties of Kern, Los Angeles, Riverside, San Luis Obispo, Santa Barbara, San Bernardino, and Ventura.
County-Specific Information
We want to thank Hippo Education for making their platform available at no cost during this pandemic.

Visit the Hippo COVID-19 Resource Hub to access podcasts and videos related to COVID-19 including the latest "Pregnancy & Newborn" podcast.
Consider subscribing to Hippo PedsRap to support their efforts. Monthly podcasts cover case-based, clinically relevant pediatric topics and pearls. Includes CME credit. AAP members get 3 months free!  (Promo code: AAP3FREE)
http://hippoed.com/peds/rap/promotion/AAP3FREE
AAP Guidance:

 

Telehealth Payer Policy in Response to COVID-19

, which outlines policy changes aiming to alleviate barriers to telehealth care. We also offer a 

webinar 

on telehealth and guidance on

 structuring your practice 

during the pandemic.

The CDC has updated the

 priorities for testing patients 

with suspected COVID-19 infection. This guidance prioritizes health care professionals and first responders to receive testing. It also recommends more aggressive testing (even for milder cases) in communities where there are more COVID-19 hospitalizations.

 
AAP recommends pediatricians continue to see newborns, infants and younger children who need immunizations. However, we further recommend deferring all well child visits over 18 months because boosters due at 4 years old can be given within the 4 – 6 yo time frame. See the AAP

Guidance on well-child visits

The CDC offers

 recommendations 

on maintaining children's immunizations and well-child visits during the pandemic. 

HealthyChildren.org has new articles with advice on

 

formula shortages

 

and information for families of

 children with special health care needs. 
PatientPop offers a robust, HIPAA compliant TeleHealth suite with a discount for AAP-CA2 members.

See more >>
These are billable codes for telehealth and phone encounters.
When completing your notes, it is recommended that you document your time spent on the video or phone encounter to help with billing reimbursement. Also, it is recommended to document verbal consent for the video or phone appointment from parent or patient. Telehealth codes are similar to sick visit codes, with a 95 modifier. View the Codes
Here
If your child is sick, keep your child home
Avoid group playdates or parties indoors

Avoid crowded activities (playgrounds, movie theaters, gymnastics, ice skating rinks, etc.), even if they're still open

COVID-19 Information for Parents, on

HealthyChildren.Org

Positive Parenting & COVID-19: 10 Tips, Click here
From Ventura County, watch Dr. Chris Landon explain the current situation as the rise in COVID-19 cases would exceed the number of ventilators in Ventura. "Please stay home… but don't congregate together".
Para Padres y Madres de Familia
Si sus pequeños estan enfermos, manténgalos en casa
Evite invitaciones de amiguitos o fiestitas, y

actividades en grupo (parques, cines, gimnasios, patinaje sobre hielo, etc.), inclusive si dichos lugares permaneces abiertos.

Información para Padres, (en Español) HealthyChildren.Org

Crianza positiva durante el COVID-19: 10 consejos, oprima aqui
En Español: El Dr. Ilan Shapiro (Pediatra) explica la situacion actual y provee recomendaciones para padres y madres de familia. Cuídense y quédense en casa. Visiten la página de la Academia Americana de Pediatría
Other Public Health Entities
Johns Hopkins Center for Systems Science and Engineering Dashboard
Developed to provide researchers, public health authorities, and the general public with a user-friendly tool to track the outbreak as it unfolds.