Life After Residency Virtual Pediatric Career Fair
Thursday February 18th, 2021
We would like to thank Dr. Thomas Jacob for his wonderful presentation on February 18th, 2021 for our "Life After Residency" Virtual Pediatric Career Fair. Please see the available career options below.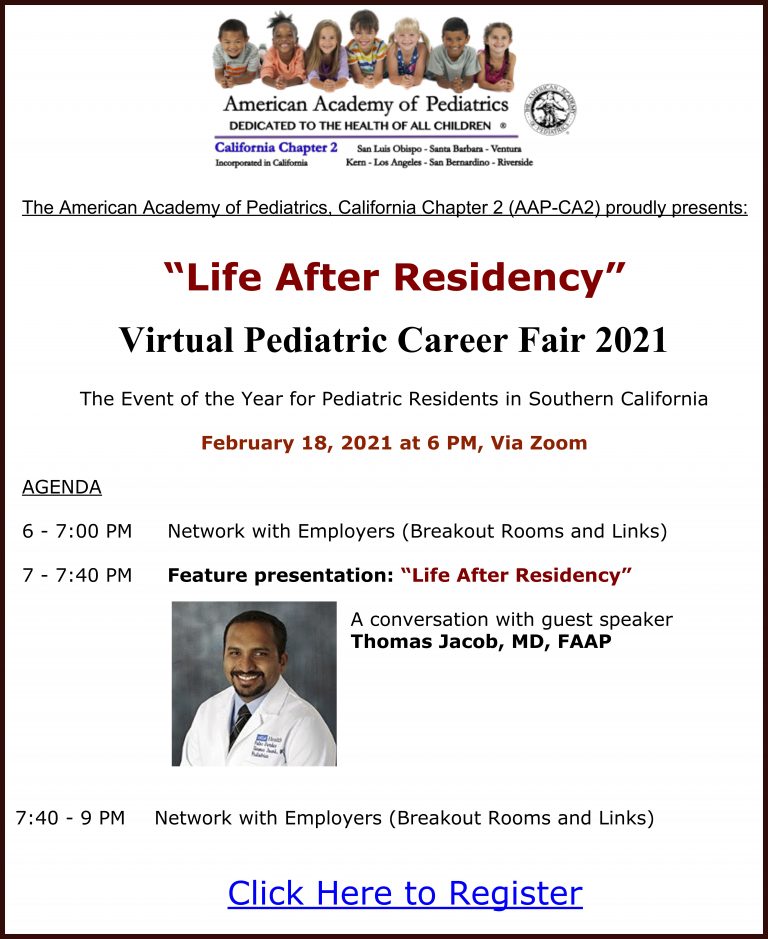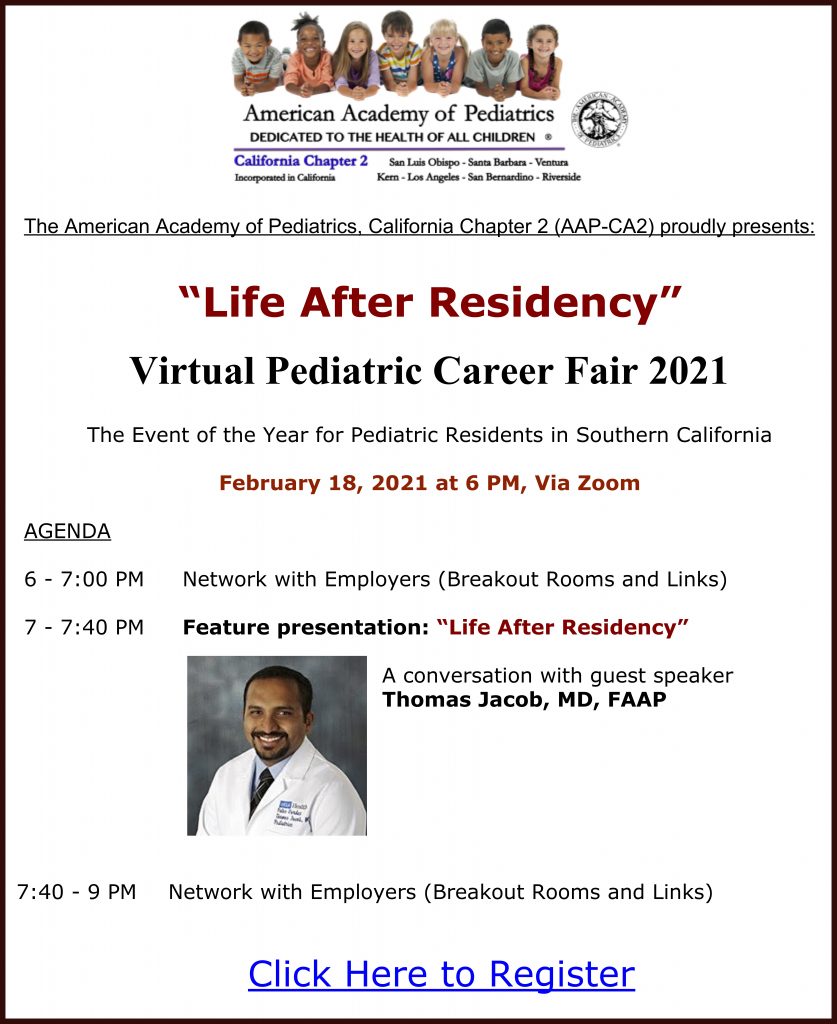 Coastal California Pediatric Opportunity
Private pediatric practice in Ventura, California is seeking a full-time pediatrician. Primarily outpatient (PPO & HMO patients) with newborn rounding. Approximate 4-day work week with shared, light call. Competitive base salary. Average 25-30 patients/day. Board-certified, clean California medical & unrestricted DEA license. Spanish speaking a plus. Send CV to Hello@VenturaPediatrician.com
Join a patient-centered independent practice in Ventura, California. Primarily a PPO & HMO population (no MediCal). We are a well-run team with plenty of opportunity for growth. (805) 642-4704    
Read More …
CLICK HERE TO VIEW JOB OPPORTUNITY
tel: 8052086895
Emanate Health Medical Group​
Kaiser Permanente Northern California
Kaiser Permanente – Southern California Permanente Medical Group
Contact: Natalie Tapia; Project Manager
email: Natalie.N.Tapia@kp.org
tel: 800-541-7946
Glenn Gallo, Recruiter:
Alejandro Camacho, Recruiter:
email: Alejandro.Camacho@kp.org 
Los Angeles County Department of Health Services
LAC DHSEnterprise Wide Physician Recruitment Video
LAC DHS High Desert Regional Health Center.
Dr. Lisa Gantz, Pediatrician
Contact: Nancy Villasenor, Head of Physician Recruitment Office
email: nvillasenor@dhs.lacounty.gov
tel: 310-621-5725
Pediatric Associates Medical Group, Inc.
We are a well established and respected independent private pediatric office seeking a BC/BE Pediatrician to join our team.  For over 70 years families have entrusted our experienced and dedicated pediatricians to take care for their children.  We provide high quality evidence based care to our community.  We are a busy and well-run office with a flexible schedule and opportunity for growth. 
See more …
Pediatrician needed: Medical chart review for Expert Witness practice
Send your contact information, summary of your pediatric interests, training, and experience along with your questions to Michael Weinraub, MD.
Via email: WeinraubMD@Gmail.com
Rolling Oaks Pediatrics is seeking a Pediatrician to join our busy California practice.
We are a popular PPO practice that has been serving the Conejo Valley for over 35 years. We are proud of the fact that we are an independent medical practice that offers the best in "continuity of care".  Read more…
Medical Practice Seeking Top Notch Pediatrician
Click here to view job description
Contact: Julie Saul, Human Resources Director
email: 4Universaul@gmail.com
tel: 8054447424
If you have any informational materials for attendees, such as PDF documents, links, or videos for attendees, please email them to chapter2@aapca2.org